Trending
Computer Center Affiliation Process – Govt Approved Courses
Govt approval/affiliation/registration for computer institute
Govt Affiliation for Computer Institute
How to get an affiliate from Govt Recognised Institutions | Govt rules and regulations for providing affiliation to computer center/institutes | Affliation for Govt approved computer courses | Process of Affiliation of computer Institute from Govt.
We are going to explain, how to get Govt Affiliation for Computer Institute easily. Most of Computer Institutes/Training Centers are looking for legal, authenticated, trusted govt recognized computer institute franchise.  After reading this article you will get all about the affiliation process. Complete information of affliation of computer center. You will be able to affiliate your training institute within an hour.
Affiliation/Registration/Approval from Govt for running Computer Center/Institute
The term Govt affiliation for Computer Institute means the process of affiliation or registration or collaboration or participation of existing training institutes with any, Govt Registered/Affiliate Franchise Brand which is approved or authorised or recognised or established for providing Computer Literacy.
Overview/Process of affiliation/registration from govt recognised institutions.
Above all, Independent Skill Development Mission is India's best Govt Affiliated Computer Institute Franchise. In addition, We are a reputed franchise brand. We are working for 20 years in computer education. ISDM is Approved by Govt of India. It's also ISO 9001:2015 Certified. ISDM is a quality education service provider. ISDM is registered by NCT New Delhi (Reg. No. 1212/19). Govt of Madhya Pradesh (Reg. No. 07187/07). MSME (Reg. No. 31452). Ministry of Labour (Reg. No. 44103/12).
A Govt Affiliation for Computer Institute | Franchise in India

India's No. 1 Computer Institute Affliation. Choose the Best & Top ISO Certified Genuine, Quality Education, Authorised Franchise. Students get Certificates valid in Private & Govt. Job.
There are a simple way of affiliation the computer center, You need to register with ISDM & You will get the following approvals:
Run and Governed by EIPS Educational Society. Registered Under ISA  Act 1957 (A), Registration No. 07168/07
MSME Registration No. 23/023/11/00062/2007
An ISO 9001:2015 Certified.
Ministry of Health and Family Welfare Association No. 6637597658/18.
National Human Rights Commission, India Association No. 8635823263/18.
National Commission for Women, India Pl. Certificate No. 7545885452.
Niti Ayog Registration No. MP/2017/0181295.
PAN No. AAAAE6731F.
TAN No. 88303012252254.
Registration under Intellectual Property of India Reg No. 3476710.
ISO 9001:2007 Certificate No. QM/1501ED/984.
Franchise with Well Designed Courses that are Approved, affiliated by Govt. of India NCT New Delhi
Instead, Govt affiliation for computer institute is about to collaborate your intitute with any govt recognlised institution. If you are looking for a franchise for computer education/courses then ISDM is the perfect solution for you. ISDM has more than 250 courses. All courses are government-affiliated. We cover the following course categories;
Points to be Remember when you are looking for a Franchise for your Computer Institute, Training, Center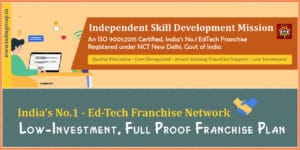 When you think of the Government affiliation for Computer Institute then you would think/observe a Reputed/Well-Established/Well-Known/Accepted brand of Education Institute. Everyone wants a Govt Recognised Franchise. Which has all affiliation/accreditation. So that you can run all computer, it, skill development, technical, job oriented courses. One organization provides all those facilities under 1 roof. that's ISDM.
For instance, India's No.1/Top/Best Computer Education Franchise. Identically, ISDM is one of the Best Franchise for Computer Institute, Training Centers, Computer Centers.
ISDM is the Low Investment Franchise. The minimum cost and maximum facilities for the Educational Institute. ISDM doesn't Charge any Royalty in Student Fee. There are small/nominal registration fees for student registration.
Thus It is the Unique and Best Computer Center Franchisee. In other words, it is the Cheapest Education Franchise.
[evc_text_marquee text="computer institute govt registration, govt recognised computer institute franchise, how to register computer training institute, central government computer courses scheme, computer institute franchise absolutely free, computer institute requirements, computer training center registration, computer centre franchise" font_size="16″]