Trending
Computer Education Franchise in Tamilnadu
Best No.1 Tamilnadu Govt Institute Franchise Information. Franchise Opportunity for Computer Institute in Tamilnadu. Computer Institute Franchise in Tamilnadu
Tamilnadu is very popular for its Education and Learning Environment. Lots of Computer and Coaching classes are running in Tamilnadu. Thousands of students are taking computer education studies from Tamilnadu. There is a huge demand for computer education that's why the computer education franchise in tamilnadu is in demand.
Computer Education Franchise in Tamilnadu is one of the most interesting topics for education providers. They are always looking for a good training partner/franchise partner to work with. If you are looking for a Franchise for your Computer Institute/Training Center then your search is complete here.
ISDM is Govt. registered organisation. It's approved from MSME, Govt of India NCT New Delhi, Govt of Tamilnadu, Startup India. Ministry of Labour, QCI, etc. We recommend you to join ISDM as a Franchisee because we are providing world-class, highly recommended ed-tech education system.
There is 200 wonderful professional IT courses with amazing topics and great contents. You find Government (Govt.) approved courses at ISDM. The most valuable thing about its courses that Student will able to apply in any govt or private job. ISDM awarded the students with great certificate of completion. This Certificate or Diploma is valid in most of Govt Jobs as well as private jobs. The biggest benefit of the student that they can use ISDM certificate nationally as well as internally.

Best IT and Computer Courses Franchise in Tamilnadu
Computer Education Franchise in Tamilnadu. Free Computer Institute Franchise in Tamilnadu. Govt recognized Computer Education Franchise
Independent Skill Development (ISDM) is another name of Success in Education Business. ISDM is reputed brand providing Franchise Opportunity for small and micro computer institute/training centers Tamil Nadu.
Above all things, The tools and techniques provided by ISDM is milestone for computer institutes of TamilNadu. Institutes/Centers can rapidly grow with our amazing Ed-Tech system. Here, we talk about 100% profitable education franchise business.
Most important thing, ISDM has all online hectic free operations. We provide the complete software kit to manage almost 90% of your operations:
Attendance
Accounts
Fees Receipts
Inquiry and Follow-ups
Admissions and Registration
Promotions and Communications
Online Studies
Amazing Online Test, Results and Analytical Panel
Most Profitable Franchise in Tamilnadu with 100% ROI. Computer Education Franchise in Tamilnadu, Franchise for Computer Institute in Tamilnadu. Free Computer Education Franchise in Tamilnadu.
5 Core Franchise Benefits
The Rapid Growing and 100% Revenue Oriented Computer Education Franchise especially designed for Tamilnadu state.
Fully Govt Recognised Franchise for Micro, Small, and Medium Computer Training Institutes/Centers. ISO 9001:2015 Certified. running world-wide.
Latest Technology Oriented Ed-Tech Education System.
Hassle-Free Operations with SOA, APR
200 Well designed Computer and IT Courses. All courses are very easy to learn and understand. ISDM provides you a complete syllabus, all topics, easy teaching methods and best study material of all courses
You will get Future Securing, 100% Job Placement Opportunities for your Students.
Become A Computer Institute Center Franchise Partner in Tamilnadu with Simple and Easy Step
Apply Online
Choose Your Franchise Plan & Complete the Buying Process
We take only 15 Minutes to Complete a Franchise Kit.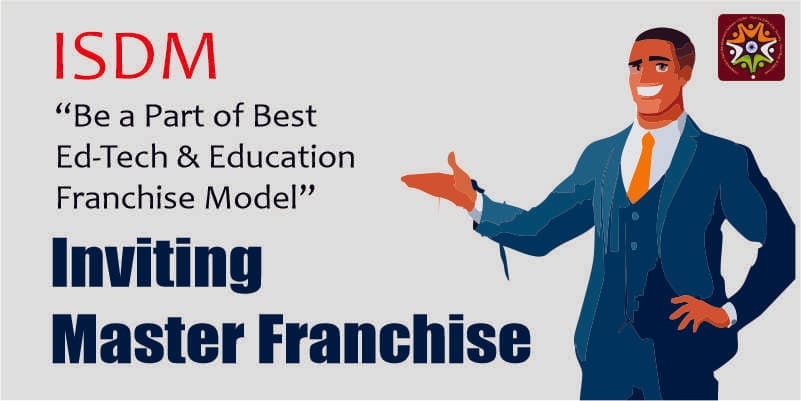 Inviting Master Franchise in following Districts of Tamil Nadu
Master Computer Education Franchise in Tamilnadu. Computer Institute Franchise Opportunities in Tamilnadu.
Chengalpattu
Cheyyur
Madurantakam
Pallavaram
Tambaram
Thiruporur
Thirukazhukundram
Vandalur
Alandur
Ambattur
Aminjikarai
Ayanavaram
Egmore
Guindy
Madhavaram
Maduravoyal
Mambalam
Mylapore
Perambur
Purasawalkam
Sholinganallur
Tiruvottiyur
Tondiarpet
Velachery
Anaimalai
Annur
Coimbatore-North
Coimbatore-South
Kinathukadavu
Madukkarai
Mettupalayam
Perur
Pollachi
Sulur
Valparai
Bhuvanagiri
Chidambaram
Cuddalore
Kattumannarkoil
Kurinjipadi
Panruti
Srimushnam
Titakudi
Veppur
Vriddachalam
Dharmapuri
Palacode
Pennagaram
Harur
Pappireddipatti
Karimangalam
Nallampalli
Athoor
Dindigul-West
Dindigul-East
Gujiliamparai
Kodaikanal
Natham
Nilakottai
Oddanchattiram
Palani
Vedasandur
Anthiyur
Bhavani
Erode
Gobichettipalayam
Kodumudi
Modakurichi
Nambiyur
Perundurai
Sathyamangalam
Thalavadi
Kallakkurichi
Thirukoilur
Kalvarayan Hills
Ulundurpet
Sankarapuram
Chinnasalem
Kanchipuram
Sriperumbudur
Uthiramerur
Walajabad
Kundrathur
Agastheeswaram
Kalkulam
Vilavancode
Thovalai
Thiruvattar
Killiyur
Aravakurichi
Kadavur
Karur
Krishnarayapuram
Kulithalai
Manmangalam
Pugalur
Krishnagiri
Hosur
Pochampalli
Uthangarai
Sattur
Sivakasi
Srivilliputhur
Tiruchuli
Denkanikottai
Anchetty
Shoolagiri
Bargur
Madurai-North
Madurai-South
Madurai-West
Madurai-East
Kallikudi
Melur
Peraiyur
Thirumangalam
Thiruparankundram
Usilampatti
Vadipatti
Mayiladuthurai
Sirkazhi
Tharangambadi
Kuthalam
Kilvelur
Nagapattinam
Thirukkuvalai
Vedaranyam
Kollimalli
Mohanur
Namakkal
Paramathi-Velur
Sendamangalam
Thiruchengode
Rasipuram
Kumarapalayam
Coonoor
Gudalur
Kotagiri
Kundah
Pandalur
Udagamandalam
Alathur
Kunnam
Perambalur
Veppanthattai
Alangudi
Aranthangi
Avadaiyarkoil
Gandarvakottai
Illuppur
Karambakkudi
Kulathur
Manamelkudi
Pudukottai
Thirumayam
Ponnamaravathy
Viralimalai
Kadaladi
Kamuthi
Kilakarai
Manamelkudi
Mudukulathur
Paramakudi
Ramanathapuram
Rameswaram
Tiruvadanai
Raja Singa Mangalam
Arakkonam
Arcot
Nemili
Walajapet
Sholingur
Kalavai
Attur
Idappadi
Gangavalli
Kadyampatti
Mettur
Omalur
Pethanaickenpalayam
Salem
Salem West
Salem South
Sankagiri
Valapady
Yercaud
Devakottai
Ilayangudi
Kalayarkoil
Karaikudi
Manamadurai
Sivaganga
Singampunari
Tirupathur
Tiruppuvanam
Alankulam
Kadayam
Kadayanallur
Keelapavoor
Kuruvikulam
Melaneelidanallur
Sankarankovil
Shenkottai
Tenkasi
Kariapatti
Rajapalayam
Watrap
Vembakottai
Vasudevanallur
Budalur
Kumbakonam
Orathanadu
Papanasam
Pattukkottai
Peravurani
Thanjavur
Thiruvaiyaru
Thiruvidaimarudur
Theni
Periyakulam
Andipatti
Bodniayakkanur
Uthamapalayam
Alangulam
Thoothukudi
Tiruvaikuntam
Kovilpatti
Ottapidaram
Ettayapuram
Vilathikulam
Kayathar
Tiruchendur
Sathankulam
Eral
Lalgudi
Manachanallur
Manapparai
Marungapuri
Musiri
Srirangam
Tiruchirappalli West
Tiruchirappalli East
Thiruverumbur
Thottiyam
Thuraiyur
Ambasamudram
Nanguneri
Palayamkottai
Manur
Radhapuram
Tirunelveli
Thisayanvilai
Cheranmahadevi
Natrampalli
Tirupattur
Vaniyambadi
Ambur
Avinashi
Palladam
Dharapuram
Kangeyam
Madathukulam
Tiruppur South
Tiruppur North
Udumalaipettai
Uthukuli
Avadi
Gummidipoondi
Pallipattu
Ponneri
Poonamallee
RK Pet
Tiruttani
Tiruvallur
Uthukkottai
Aarani
Chengam
Chetpet
Cheyyar
Jamunamarathur
Kilpennathur
Kalasapakkam
Polur
Thandarampattu
Tiruvannamalai
Vandavasi
Vembakkam
Kudavasal
Koothanallur
Mannargudi
Nannilam
Needamangalam
Thiruthiraipoondi
Tiruvarur
Valangaiman
Anaicut
Gudiyatham
Pernambut
Katpadi
Vellore
Kilvaithinankuppam
Gingee
Marakkanam
Melmalaianur
Tindivanam
Vanur
Vikravandi
Villupuram
Kandachipuram
Thiruvennainallur
Aruppukkottai
Virudhunagar
Important Links