How to Register Computer Training Institute in Rajasthan
Process of Registration of Computer Center/Computer Institute in Rajasthan. Computer Institute Registration Guide for Rajasthan
Time needed: 10 days, 10 hours and 10 minutes
How to Register Computer Training Institute/Center in Rajasthan.
Register a Computer Training Institute in Rajasthan with ISDM. ISDM provides you the easiest and fastest Registration Process. The most amazing thing is, You can register your own Computer Institute/Center/Training Institute in 15 minutes. The other Best thing about ISDM is its flexibility of the Franchise Plan. You can choose your Franchise Plan according to your need.

Choose the Location for Computer Training Institute

Firstly, you should have a good location where easy travel available for the students. Once you final the location then you can go for further Process. You should remember the following things when you select the training center location:
Select the City Village or Block
Select the Appropriate Market
Aware about Parking, Partition, Infrastructure Facility.

Affiliation of Institute

Secondly, Franchise Partnership is the cheapest way to start Computer Education Institute/Training Center. You will find the ISDM Franchise on Google and many search platforms. You can contact with ISDM Executives for your Franchise Proposal or You can send your details for asking about franchise proposal of Click Here

Market Survey to get Best Results and more Admissions

Marketing and Survey is the most important part to start/register a computer training institute in India. We must do the market survey because we will know what are the courses to be run at your Institute, What is the financial capacity of target students. Even it is most important for the selection of courses.
Thus, A good and Well-Planned Market Survey is very important. ISDM provides you with Market Survey Report almost 99.99% places of India.

Choose the Trending Courses

This is the most important and necessary action to start a computer education center. Choosing of Course according to Market Demand is an art as well as a Science of Marketing. You need three essential things to keep in mind while you choose the course for your Institute:
1. Who are your Target Students
2. Learning Capacity of Students
3. Financial background of the Students and Parents
4. Availability of Trainer

Setup Infrastructure and Learning Environment

Infrastructure is an inseparable part of the Register Computer Training Institute. We can't create a best learning environment without good infrastructure.
You need to keep the following things ready:
1. Reception
2. Computer Lab
3. Theory Classroom
4. Washroom
5. Drinking-Water
6. Parking Area
7. Dust-Bin
8. Proper Electricity Supply
9. Internet Connectivity with Good Speed


Appoint a Trainer

The selection of Trainers is the core step to complete to start a computer training institute. The quality of Education depends on the Trainer. So we should very much aware and careful when we select a trainer.
ISDM recommend you keep personal attention on the trainer. Do the selection process with ISDM HRTeam. We help you to select the best Trainer.

Pre-Start-Up Marketing and Promotion

Marketing and Promotion is the key part of starting of newly register computer institute. You can take support your franchisor. They can help you to take a good startup.
ISDM share years of experience with you. We give you our tools and techniques to get best results.
How to Start the Computer Training Institute in Rajasthan
Rajasthan is very popular for its Education and Learning Environment. Lots of Computer and Coaching classes are running in Rajasthan. Thousands of students are taking computer education study from Rajasthan. There is a huge demand for computer education that's why the ISDM is the best to answer 'How to Register Computer Training Institute' is in demand.
How to Register Computer Training Institute in Rajasthan is one of the most interesting topics for education providers. They are always looking for a good training partner/franchise partner to work with. If you are looking for Franchise for your Computer Institute/Training Center then your search is complete here.
ISDM is Govt. registered organisation. Its approved from MSME, Govt of India NCT New Delhi, Govt of Rajasthan, Startup India. Ministry of Labour, QCI, etc. We recommend you to join ISDM as a Franchisee because we are providing world-class, highly recommended ed-tech education system.
There is 200 wonderful professional IT courses with amazing topics and great contents. You find Government (Govt.) approved courses at ISDM. The most valuable thing about its courses that Student will able to apply in any govt or private job. ISDM awarded the students with great certificate of completion. This Certificate or Diploma is valid in most of Govt Jobs as well as private jobs. The biggest benefit of the student that they can use ISDM certificate nationally as well as internally.

Best Education Franchise Opportunity for Computer Training Institutes
How to Register Computer Training Institute in Rajasthan. Free Computer Institute Franchise in Rajasthan. Govt recognized How to Register Computer Training Institute
Independent Skill Development (ISDM) is another name of Success in Education Business. ISDM is reputed brand providing Franchise Opportunity for small and micro computer institute/training centers.
Above all things, The tools and techniques provided by ISDM is milestone for computer institutes. Institutes/Centers can rapidly grow with our amazing Ed-Tech system. Here, we talk about 100% profitable education franchise business.
Most important thing, ISDM has all online hectic free operations. We provide the complete software kit to manage almost 90% of your operations:
Attendance
Accounts
Fees Receipts
Inquiry and Follow-ups
Admissions and Registration
Promotions and Communications
Online Studies
Amazing Online Test, Results and Analytical Panel
Most Profitable Franchise in Rajasthan with 100% ROI. How to Register Computer Training Institute in Rajasthan, Franchise for Computer Institute in Rajasthan. Free How to Register Computer Training Institute in Rajasthan.
5 Core Franchise Benefits in Rajasthan
The Rapid Growing and 100% Revenue Oriented How to Register Computer Training Institute.
Fully Govt Recognised Franchise for Micro, Small, and Medium Computer Training Institutes/Centers. ISO 9001:2015 Certified. running world-wide.
Latest Technology Oriented Ed-Tech Education System.
Hassle-Free Operations with SOA, APR
200 Well designed Computer and IT Courses. All courses are very easy to learn and understand. ISDM provides you a complete syllabus, all topics, easy teaching methods and best study material of all courses
You will get Future Securing, 100% Job Placement Opportunities for your Students.
Become A Franchise in Rajasthan with Simple and Easy Step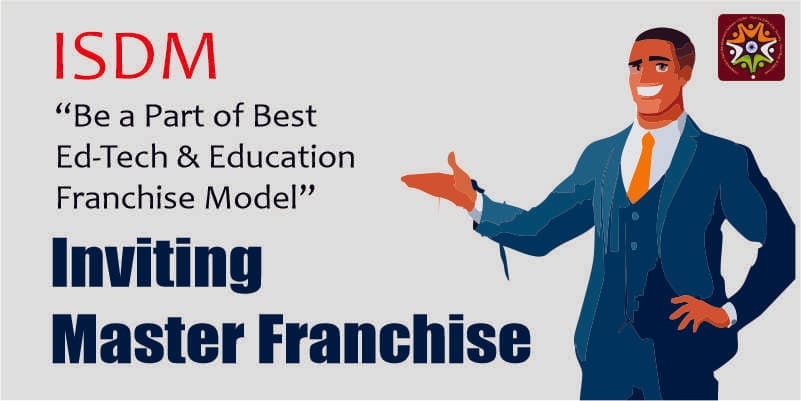 Inviting Master Franchise in following Districts
Master Franchise – How to Register Computer Training Institute in Rajasthan. Computer Institute Franchise Opportunities in Rajasthan.
Important Links